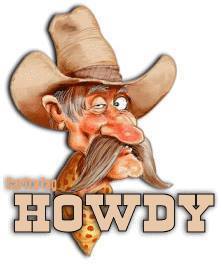 The "Old Texan" was getting ready to go to the HELL Hole Swamp Church in Gun Barrel City, Texas. He has been a member and on the Finance Committee. The finance committee refuses to provide funds for the purchase of a chandelier because none of the members knows how to play one. Opening day of deer season is recognized as an official church holiday. Instead of a church bell, you are called to service by a duck call. In a congregation of 500 members, there are only seven last names in the church directory. The choir robes were donated by (and embroidered with the logo from) Billy Bob's Barbecue.

The Pastor started the sermon talking about the Rapture, the only trouble was People thought "rapture" is what you get when you lift something too heavy. He went on to talk about how Jesus fed the 5000 with two fish they wanted to know whether the two fish were bass or catfish, and what bait was used to catch 'em. "Thou shalt not covet" applies to hunting dogs, too.

During the church service, When the Pastor asks "I'd like to ask Bubba to help take up the offering. The collection plates are really hub caps from a '56 Chevy. A baptism of Peggy Sue daughter was performed by the pastor it's a known fact that the congestion thinks that Baptism is referred to as branding". The baptismal pool is a #2 galvanized washtub. The preacher then performed communion, the communion wine is Boone's Farm "Tickled Pink".

As the service was ending the high notes on the organ set the dogs on the floor to howling. The final words of the benediction are, "Ya'll come back now!! Ya Hear".
After the service as the people was leaving the Church, when Bubba suddenly grabs his chest and falls to the ground. He doesn't seem to be breathing, his eyes are rolled back in his head. The "Old Texan" whips out his cell phone and calls 911. He gasps to the operator, "I think Bubba is dead! What should I do?" The operator, in a calm soothing voice says, "Just take it easy and follow my instructions. First, let's make sure he's 'dead'." There is a silence...then a shot is heard. The "Old Texan's" voice comes back on the line, "Okay,
now what?"